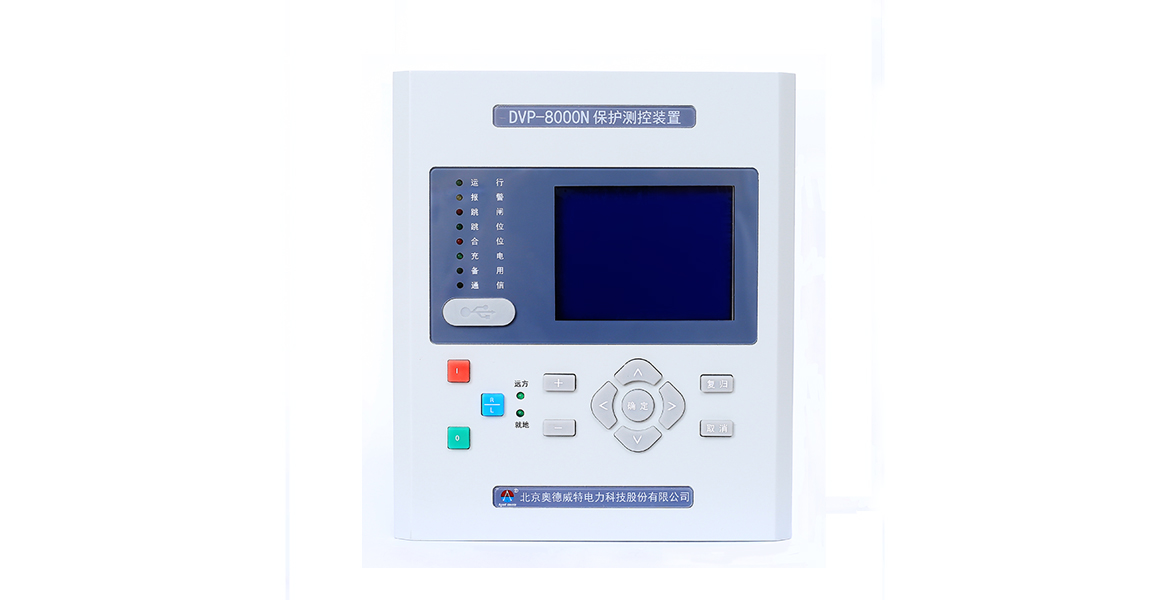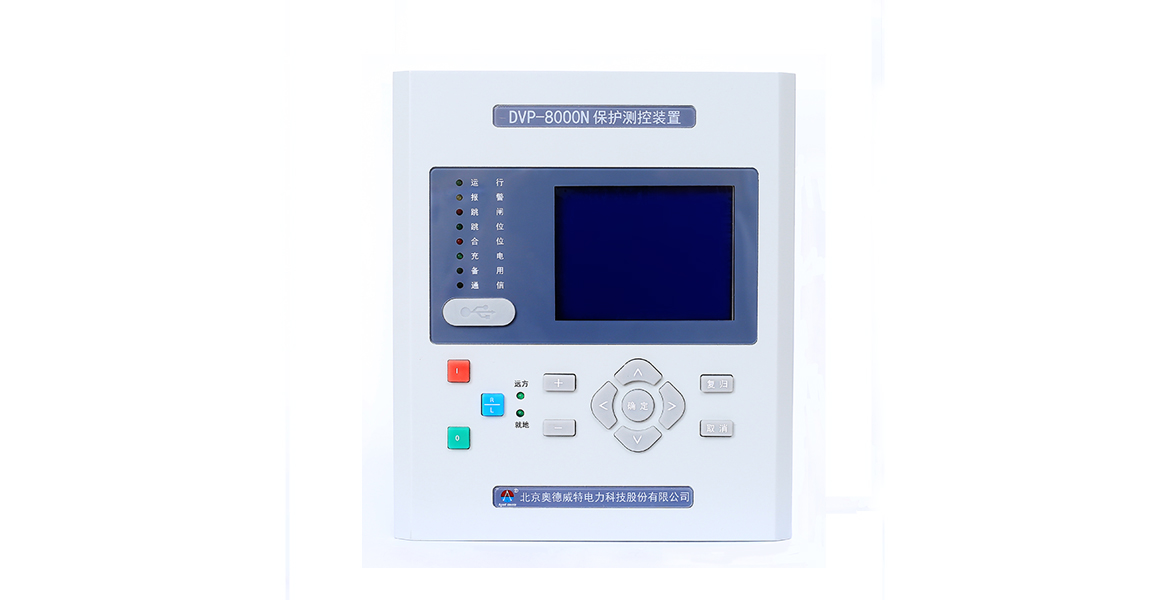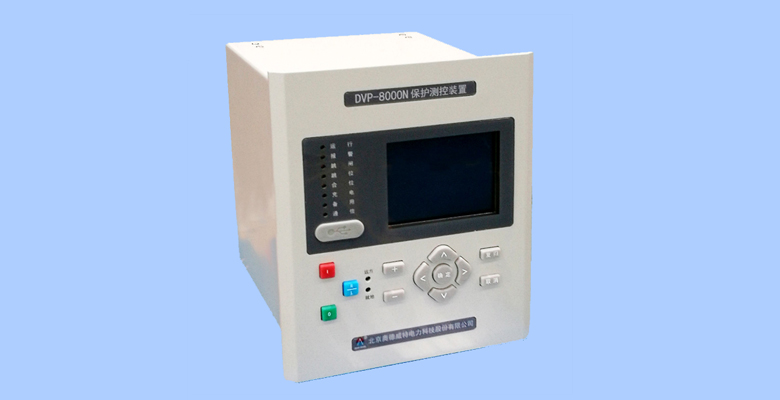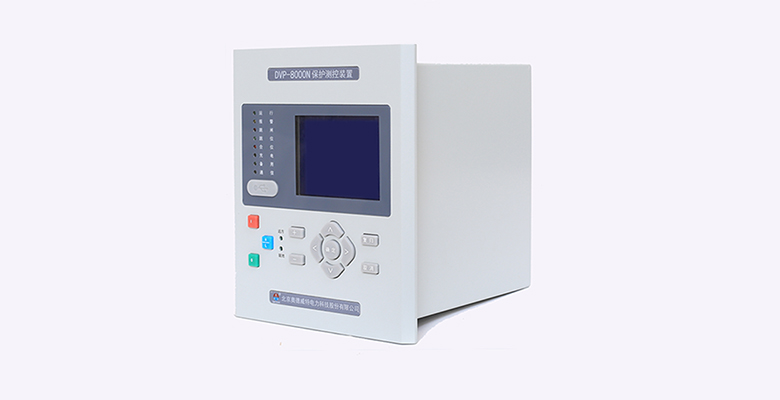 ADVP-8000N Protection and monitoring device
DVP-8000N Series digital protection and monitoring device is the main object of monitor and protection with a variety of 0.4kV ~ 110kV voltage primary equipment, it is a intelligent device with protection, measurement, control and communication, mainly suitable for protection and monitor power plant, substation and auxiliary power system of the industrial and mining enterprise.
This series of product can not only collect to group panel, but also can be locally installed in the switch cabinet.
1. Characteristic
The device case adopts the full close design, which is separated by strong and weak electricity. At the same time, the hardware and software redundancy design with high reliability makes the device have strong anti-interference performance.
The device adopts a plug-in structure, each plug-in module performs a specific function, and the device can be flexibly configured to satisfy various engineering requirements.
LCD can be switched in English and Chinese, completely menulize operation, decimalism continuous setting. The standard for LCD is 320*240 lattice,it can be real-time display of the AC analog waveform and the main wiring diagram.
Transmission test function can be carried out for the exit loop linkage check. The local / remote switch and the open and close button on the panel can manually control the switch directly on the device.
Perfect software and hardware self-test function. If the anomaly is found, the exit is locked, the alarm signal is displayed and the fault content is displayed.
The device can display various protection and measurement parameters, such as current, voltage, active power, reactive power, power factor, switching state, 2~23 harmonic measurement and total harmonic distortion rate, THD.
A high reliability, large capacity FLASH memory is used to permanently store a large number of fault events and operational records, and to store 10 recent fault record data, each recording data for 4~10 seconds. The recorded data can be displayed on the monitor, and also can be exported to the U disk. The fault waveform can be displayed by the computer software Excel, which is more convenient for fault analysis.
The communication network adopts double Ethernet and double RS485 interface. Many devices are connected with an upper computer or a communication management machine to form a communication network for centralized control of the system, and realize the functions of remote sensing, remote control, remote control, remote sensing, etc., and the "four remote control " functions. Support the power industry standard DL/T667-1999 (IEC60870-5-103) and other communication protocols.
All the protection functions (including non electrical protection) can select the way of exit by itself and have soft strap in service and out of service.
All user names can be redefined themselves according to the drawings.
The device equipped with USB interface, it can upgrade the program itself, but also can export the device parameters, protection settings, SOE events, operating records, device information table, fault recording data through the U disk, the device parameters and the protection setting values can be modified according to the derived format and then lead-in device through the U disk, so that not every device has to enter the menu setting, a lot of workload have been reduced.
The device has a variety of functional modules including input/output expansion, operating loop, DC analog input, 4 ~ 20mA DC analog output, temperature resistance measurement,etc, it can be configured into various functions of the protection and monitor devices to meet the needs of multiple industries.
2. The Key Technical Indexes
☆ Supply Voltage:
DC220V±15% OR DC110V±15% (Order need to be noted)
AC220V±15%
AC Rated Current: 5A(1A Order need to be noted)
AC Rated Voltage:100V(57V),380V(220V)
Rated Frequency:50Hz
☆ Parameter Setting Range:
Current:0.1Ie~20Ie
Voltage:1~500V
Zero Sequence Current:5mA~1.2A
Time:0~9999S All Can Continuous Setting
☆ The Accuracy of Measuring Element:
Setting Error: Current and Voltage Setting Error Not Exceeding±2.5%;
Time Setting Error Not Exceeding±40ms;
The Whole Group Actuation Time Not Exceeding ±35ms
Temperature Variation: Relative To 20℃±2℃ In The Working Environment Temperature Range, Not Exceeding ±5%
Measurement Accuracy: Current, Voltage and Frequency≤±0.2%;The Others≤±0.5%
☆ pulse volume:
Min pulse Separation:40ms
☆ The switching value and GPS input
Allowable voltage of switch value:DC/AC220V or DC/AC110V(Order need to be noted)
Allowable voltage of GPS:DC24V
☆ Ptical interfaces
Interface type: private cable,FC
Fiber parameters: single mode, the wavelength is 1310nm, the pad control is not greater than 0.4dB/km
☆ Overload Capacity:
Alternating Current Loop:
2 Ie Continuous Operation
10Ie Continuous Operation 10s
40Ie Continuous Operation 1s
Alternating Voltage Loop:
1.2Ue Continuous Operation
1.4Ue Continuous Operation 10s
2 Ue Continuous Operation 2s
☆ Power Consumption:
Alternating Current Loop< 0.25VA/Phase
Alternating Voltage Loop< 0.5VA/Phase
Power Loop < 10W
☆ Electromagnetic Compatibility:
GB/T14598.9-20 Radiation Electromagnetic Interference Test Ⅲ Level.
GB/T14598.10-2007 Transient Interference Test Ⅲ Level.
GB/T14598.13-2008 1MHz and 100KHz Pulse Train Interference Test Ⅲ Level.
GB/T14598.14-1998 Electrostatic Discharge Interference Test Ⅲ Level.
Insulation Property:
☆ Insulation Resistance Level:
The charged part and the uncharged part of the device and the place between shell and the electrical loop that without contact then measure the insulation resistance value with 500V megger , evey grade insulation resistance of each loop is not less than 100MΩ under the normal atmospheric conditions test.
Power Frequency Withstand Voltage Level: AC loop ground withstand voltage 2000V, DC loop ground withstand voltage 1500V, the withstand voltage between AC loop and DC loop1000V,test time 1 minute, rated insulation voltage>60V。
Impulse Voltage:1.2/50μs Standard Lightning Short Impulse Voltage, Test Voltage 5kV.
☆ Mechanical Property:
GB/T11287-2000 Vibration Response Test Ⅰ level.
GB/T11287-2000 Vibration Endurance Test Ⅰ level.
GB/T14537-1993 Shock Response Test Ⅰ level.
GB/T14537-1993 Impact Fatigue Test Ⅰ level.
GB/T14537-1993 Crash Test Ⅰ level.
☆ Atmospheric Conditions:
Ambient Temperature: -25℃~+55℃
Relative Humidity: 5%~95%
Atmospheric Pressure: 86kPa~106kpa
☆ Output Contact Capacity:
Signal Contact: long-term through current 1A, breaking current 0.2A(DC220V,V/R 1ms)
Trip and Closing Contact: long-term through current 5A, breaking current 0.3A(DC220V,V/R 1ms)
Breaker trip and closing current: 0.5~5A adaptive
3、Device Structure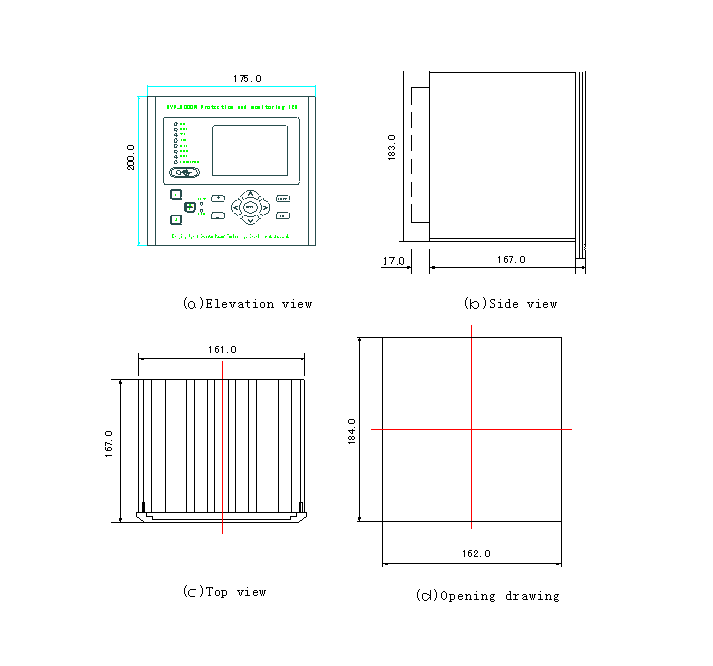 运行 Run
报警 Alarm
跳闸 Trip
跳位 Off
合位 On
充电 Charge
备用 Spare
通信 Communication
确定 Enter
复归 Reset
取消 ESC
远方 Remote
就地 Local